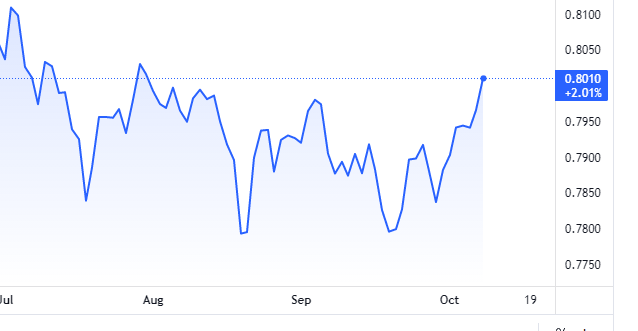 The Canadian dollar is up 0.8% today and trading at its highest level since July.  
USD to CAD
 is currently down to 1.248 (
CAD to USD
is up to 0.801).  The Canadian dollar is benefitting from a number of tailwinds today.  First, and most importantly, the number of jobs in Canada has now returned to pre-pandemic levels.  Canadian employment increased by 157,000 from August, crushing expectations of 65,000 new jobs.  Second, the U.S. jobs number in September badly missed expectations (194k versus 500k expected).  Third, oil is up again after taking a breather for the last couple of days, providing further support to the Canadian currency.  Finally, yesterday, Bank of Canada Governor Tiff Macklem used an appearance to reaffirm his confidence in growth and the Bank's commitment to rein in monetary stimulus. At the same time, the US dollar index, which measures the greenback against a basket of other major currencies, is still hovering around a
one-year high
.  The US dollar has been rallying as a result of rising yields south of the border with the 10-year US treasury consistently creeping up as the markets prepare for tapering.  Typically, such broad US dollar strength would put pressure the Canadian dollar.  But the loonie has been bucking the trend towards a stronger US dollar over the last couple of weeks because of rising oil prices, which are trading at their highest levels since 2014.  Today's uniformly positive developments (Canadian employment much better than expected, US employment much worse than expected, a hawkish-sounding Bank of Canada, and rising oil prices) are unlikely to repeat all at once again.  However, US yields are likely to continue to rise.  As such, we think it is more likely than not that the USD to CAD exchange rate will go up from here (i.e.: USD will get more expensive).  So, we are advising clients that have USD needs to consider purchasing some US dollars today.