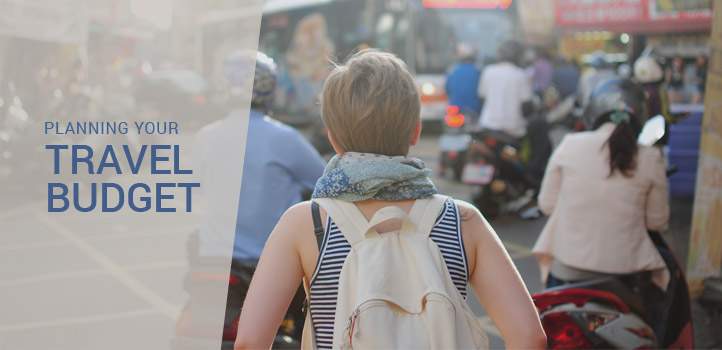 Traveling is the only way to experience all the beautiful and unique landscapes, architecture, history and culture that the world has to offer, but it isn't free! In order to make sure that these new experiences don't break the bank when you get back to reality you need to establish a budget beforehand. Here are some of the most common expenses that should be accounted for in any travel budget:
You'll have to get there in the first place
It's not a trip without transportation. Make sure that you account for your plane and train tickets, or fuel if you are driving to your destination.
You'll have to eat
Whether you plan on tasting a foreign country's best delicacies at its finest restaurants, or you simply want to get a few decent meals on the go, you will have to pay for it. Make sure that you have enough money in your budget to keep your belly full for the entire trip.
You'll have to get around
Unless you plan on walking everywhere, a local transportation budget is a must. Be sure to account for the cost of traveling around each city 
and 
in between countries, especially if you are going to be in a closely connected group of smaller-sized nations like those in Europe.
You'll need to stay somewhere
Unless you are staying with friends or family, your accommodations won't be free. Figure out what type of accommodations you would like/need and how much they cost.  Websites like
TripAdvisor
and
Airbnb
can be very powerful tools.
You aren't just going to eat and sleep
Even if you are going on a business trip, chances are that you won't be sitting in your hotel room the entire time that you are abroad. Make sure that you have money budgeted to access all the sites and buy everything that you want to experience while you are abroad.
Prepare to be surprised
No matter how well-prepared you are, unexpected things can happen, you can lose/break your cell phone, purchases or expenses can cost more than you had budgeted for or you could forget to pack something that you need. Make sure that you have an emergency fund set aside for such an occurrence.
Plan on getting stuck wherever you go
In our modern world travel is becoming more and more efficient- but it's still far from being perfect.  Flights for example, can easily get cancelled by inclement weather or overbooking, so getting stuck on one part of your multi-leg trip is a very real possibility. To make sure that you aren't at a loss as to what you should do if you get stuck in a foreign country, plan for it by adding extended stay money to your budget.
Remember that currency exchange can affect your budget
Your travel budget will not be 100% set in stone for a number of reasons. The biggest variable that you need to account for in this regard is the value of the Canadian dollar against the currency of the country that you will be traveling to. This changes every single day, so you should keep a close eye on it in the days leading up to your trip. In order to get the most for your currency exchange transactions, check out websites like
CompareFX.ca
that compare reputable currency exchange companies and find the one that provides you with the best price.  Also remember to avoid currency exchange booths in tourist areas like the airport (
see previous blog posting
).
Write it all down
To make sure that you don't forget anything that should be included in your travel budget, you should write it all down. However, simply listing everything that you have to account for won't cut it. You need to estimate the cost of everything and set the necessary amount of money aside beforehand. There are loads of apps out there to help you with this.  Here is one we like:
http://travelbudgetapp.com/
.